Writing with AI (2021-2022)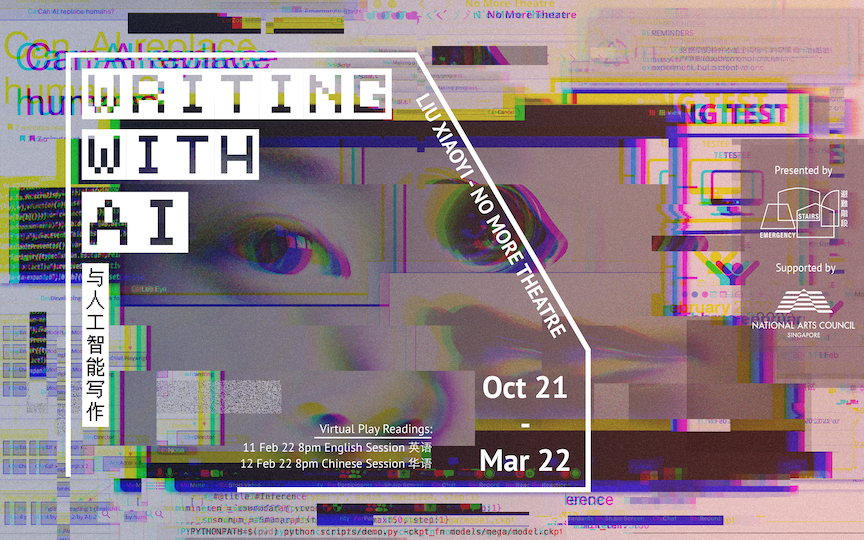 How can AI understand creativity, culture and emotion?

How can human creators be creative in responding to and using AI?
Writing with AI is a further development of Liu Xiaoyi (Emergency Stairs)'s No More Theatre, a research and development project which concluded in 2021, under Liu's Young Artist Award Grant.
During the initial development phase of No More Theatre, Liu has experimented with the basic writing capabilities of different AI platforms. In this new Writing with AI, the team led by Liu will experiment how humans can co-write theatrical scripts with artificial intelligence, and conduct comparative studies on the scripts written by human and AI.
Inspired by The Turing Test, a test proposed (1950) by the English mathematician Alan M. Turing to determine whether a computer can "think", Writing with AI will use the open-source LM (Language Model) to experiment with how humans co-write theatrical scripts and will present them online to a digital attuned audience.
Through this experiment, the team will attempt to develop a new methodology and excavate a new way of creating by crossing over art with technology. More importantly, the team hopes not just to contemplate upon the symbiotic relationship between art-making in the digital realm but also to inspire new creativity in the future of art and technology.
Creative Team 
Liu Xiaoyi – Curator, Chief playwright, Director
Neo Kim Seng – Researchers
Raja Akanksha – Researchers
Judee Tan – English Playwright
Sim Yan Ying – English Playwright
Huang Suhuai – Chinese Playwright
Regina Toon Yuan Min – Chinese Playwright
Lim Ci Xuan – Creative Assistant
Sng Ya-Li Sabrina – Coordinator
Lum Shu Mei, Denise – Research Editor
Click the below image to view the full report.